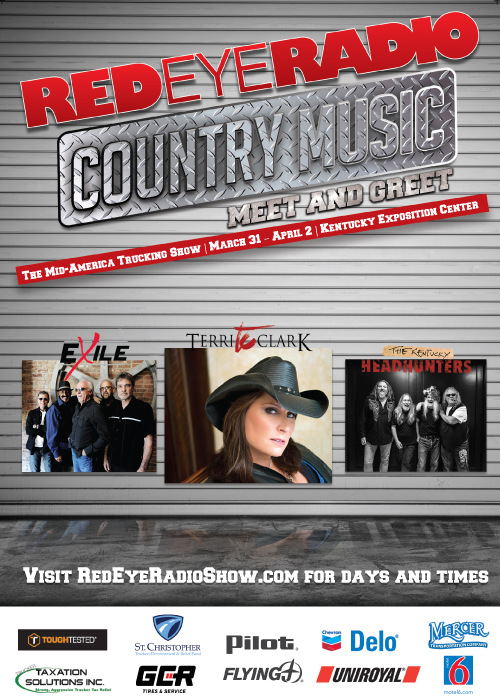 Red Eye Radio's Celebrity Roundup Features Terri Clark, Kentucky Headhunters, and EXILE at the 2016 Mid-America Trucking ShowWestwood One's Red Eye Radio network lobby booth will once again be THE premier celebrity Rendezvous spot at the Mid-America Trucking Show in Louisville with live appearances and musical performances from Country artists Terri Clark, Kentucky Headhunters, Exile, Tony Justice and a celebrity appearance by Edgar Hansen from the Deadliest Catch.
The Mid-America Trucking Show, a trucking convention with over 70,000 attendees, will take place March 31 – April 2, 2016 at the Kentucky Exposition Center in Louisville, KY. Eric Harley, host of Red Eye Radio, will be on site to introduce attendees to the sizzling lineup of country music artists. The special guests will visit Red Eye Radio's lobby booth (41064) for signing autographs, taking photos, and talking with drivers. For specific days, schedule, and details visit www.redeyeradioshow.com.
Red Eye Radio will be treating attendees with this incredible mix of extremely talented and accomplished artists firsthand. These artists have awards or had nominations from; the Academy of Country Music, Country Music Association, Grammy's, Canadian Country Music Association, and Female Artist of the Year. To say this lineup is anything less than spectacular, would be an understatement.
Visitors to the booth will also be able to register for Daily Drawings for CB Radios, GPS Units, and much more. Support for Red Eye Radio's 2016 Mid-America Trucking Show events and activities include: Mercer Transportation, ToughTested, Pilot Flying J, Chevron Delo, GCR Tire Centers, Taxation Solutions, The St. Christopher Fund, Motel 6 and Uniroyal Commercial Truck Tires…Affordable and Dependable.
Red Eye Radio, hosted by Eric Harley and Gary McNamara, is the longest running nationally syndicated radio program focused on the needs of the trucking industry. The show airs on over 220 stations nationwide Monday-Friday, Midnight-5:00 am CT. For more than 40 years, the show has been a part of the fabric of the trucking industry. Red Eye Radio has done this by consistently providing professional drivers up-to-the-minute news, information and entertainment that creates a positive in-cab experience while helping truckers become more efficient and stay entertained while on the road. The audience includes shift workers, travelers, truck drivers and others who embrace the new 24/7 lifestyle, with many restaurants, retailers and other business establishments open round the clock.
About the Artists
Terri Clark – Hailing from Medicine Hat, Alberta, Canada, Terri got her start playing for tips at Tootsie's Orchid Lounge, a honky-tonk bar across the alley from Nashville's historic Ryman Auditorium. She signed with Mercury Records and emerged as a distinctive voice on the country music landscape – driving, passionate, spirited – and every bit her own woman. The 8-time CCMA Entertainer of the Year has also taken home the CCMA Female Vocalist of the Year award five times. She has made her mark on radio with more than twenty singles, including six Number Ones in Canada and the USA – hits such as such as "Better Things To Do," "Poor Poor Pitiful Me," "Girls Lie Too," and "I Just Wanna Be Mad." Terri has sold over five million albums and achieved Gold, Platinum, Double Platinum, and Triple Platinum status as certified by the CRIA and RIAA. She has collaborated with the likes of Reba, Vince Gill, Allison Krauss, Dierks Bentley, Martina McBride, and Jann Arden. Terri also has the honor of being the only Canadian female artist to be a member of the Grand Ole Opry.
Kentucky Headhunters – Known as "Southern Rock Royalty" and the "great American rock 'n' roll band," The Kentucky Headhunters have maintained a longevity most acts can only dream about. With a GRAMMY Award, CMA Album of the Year Award, two CMA Vocal Group of the Year Awards, two Top 10 charting albums, and four consecutive Top 40 hits. The "Heads" are credited for creating a unique blend of honky-tonk, blues, and southern rock that appeals to the toughest music critics and listeners of all kinds. Getting their start in 1968, brothers Fred and Richard Young and cousins Greg Martin and Anthony Kenny, from Edmonton, Kentucky, formed Itchy Brother, which later morphed into The Kentucky Headhunters, after Kenny departed and Doug Phelps joined the band. Their first album, Pickin' On Nashville, (1989), surprised the world when it became a major success, selling over two million copies. Their newest album, Meet Me In Bluesland, a collaboration between The Kentucky Headhunters and Rock and Roll Hall of Fame pianist Johnnie Johnson, hit stores on June 2. Johnson was a legendary pianist for Chuck Berry, Albert King and many other rock and roll and blues legends. Meet Me In Bluesland features unreleased material originally recorded over the course of three days in a marathon recording session in Kentucky. The album reached the No. 1 spot on the Billboard Blues Album chart the week of its debut. It also garnered top placement on the Billboard Americana Chart and numerous European blues charts. Yahoo! Music hailed, "The album is a rocking joy through and through, an unexpected romp that's as good to hear as it must have been to perform."
EXILE – Exile's history if rather extensive and extremely impressive to say the least. They formed in 1963 looking to play small clubs in Richmond, KY but managed to top both the pop and country charts during their more than 50 year-long career. Their most successful hit, "Kiss You All Over" spent four weeks at the top of Billboard's pop chart in 1978. In the early 1980s, Exile started to focus on country music. During their run on the country charts Exile has successfully had ten No. 1 singles including "I Don't Want to Be A Memory" and "Give Me One More Chance." The five original members of Exile reformed in 2008 and continue to tour today.
Tony Justice – An East Tennessee man, via California and Kentucky, Tony Justice likes to sum up his life in six word: God, Family, America, Country Music, NASCAR, and Trucking. And this truck driving, singer-songwriter, God-fearing, family man, with a tough as nails work ethic is having the time of his life chasing his dream! With straight up honesty in his songs, Justice, a second generation trucker, not only writes about the trucking life, he lives it. And he's well on his way to making his goal (dream?) into a reality – having a No. 1 Hit song.
Thursday, March 31st
Kentucky Headhunters
12:30p – 2:00p | Kentucky Headhunters Meet and greet/sign autographs
Edgar Hansen
12:30p – 1:00p | Autograph Session at Red Eye Radio Lobby Booth
Delo Parts Guy
12:45p – 1:15p | Red Eye Radio Lobby Booth
Terri Clark
3:00p – 3:30p | Terri Clark at Chevron booth #32495 meet and greet/sign autographs
3:45p – 5p | Terri Clark meet and greet/sign autographs at Red Eye Radio Lobby Booth
Friday, April 1st
Edgar Hansen
9:30a – 10:00a | Autograph Session at Red Eye Radio Lobby Booth
Delo Parts Guys
9:45a – 10:15a | Red Eye Radio Lobby Booth
EXILE
1:00p – 2:30p | EXILE Acoustic set and Meet and Greet
Saturday, April 2nd
Delo Parts Guy
8:45a – 9:15a | Red Eye Radio Lobby Booth
Edgar Hansen
10a – 10:30a | Autograph Session at Red Eye Radio Lobby Booth
Tony Justice
8:45a – 9:45a | Tony Justice Acoustic set and Meet and Greet
Times Subject to Change