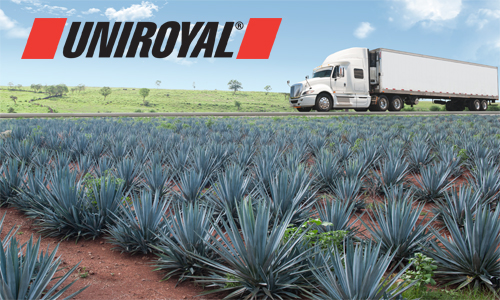 New, affordable and dependable line meets diverse needs of owner-operators and small fleets
The Uniroyal® brand announced today the launch of six commercial truck tires in the U.S. market. The new tire line provides an affordable offer for every tire position and application — from long-haul to regional to on-/off- road, including dry van, flat bed, construction, and pick-up and delivery vocations. Two of the tires, Uniroyal® RS20™ and Uniroyal® LS24™, are SmartWay®-verified and meet the Environmental Protection Agency (EPA) requirements for outstanding fuel efficiency.
"We are pleased to bring the Uniroyal brand, which has been in the U.S. passenger and light truck market for over 120 years, to the U.S. commercial truck market," said Donna Murphy, business segment manager for Uniroyal Commercial Truck Tires. "Uniroyal truck tires provide affordable, reliable solutions for commercial truck operators."
DuraShield® construction, at the heart of every Uniroyal tire, provides a unique combination of features for durability, dependability and retreadability. Three strategic features — including pyramidal steel belts, insulating belt edge strips and a heavy gauge inner liner — work together to reduce stress, promote endurance and protect the tire's casing. Uniroyal commercial truck tires are backed by a four-year manufacturer's limited warranty. Certain tires used in long-haul and regional applications are also covered by a one-retread limited warranty.
The new Uniroyal line consists of six tread designs with 28 sizes:
Uniroyal® LS24™: SmartWay-verified long-haul all-position tire optimized for the steer axle
Uniroyal® LT40™: Long-haul and regional trailer tire
Uniroyal® RS20™: SmartWay-verified regional all-position tire optimized for the steer axle
Uniroyal® RD30™: Regional and long-haul drive tire
Uniroyal® HS50™: On-/off -road all-position tire optimized for the steer axle
Uniroyal® HD60™: On-/off-road drive tire
About Uniroyal:
Uniroyal is one of the world's leading tire brands for passenger and commercial cars, pick-ups, light trucks, minivans and sport utility vehicles. Dating back to 1892, Uniroyal has developed a reputation for providing affordable and dependable tires, including its Tiger Paw® and Laredo® tire series. Uniroyal now offers commercial truck tires to bring that same value to the trucking industry. To learn more about the new Uniroyal commercial truck tires, visit www.UniroyalTruckTires.com.